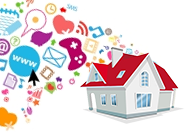 Being an IT company, we can't help noticing changes in the global IT market in general, and in the automation market in particular. Our previous survey (the results are
here
), showed that professional installers and integrators of Smart home systems already use Internet of Things devices or are planning to use them..
That's why we decided to ask our regular customers, home automation professionals, a number of questions on the following topic, "How will the growth of IoT influence the market of professional Smart home installations?"
Besides we got interested if it's a global world-wide tendency or if it had any geographical borders. That's why we did the survey in two languages: English and Russian.
We got interesting results and we are ready to share them with you. We'll be glad to learn your opinion on this topic.