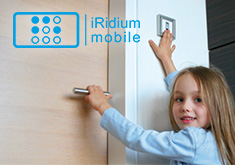 iRidium mobile booth you'll also present our other developments:
iRidium solution for e-Key (fingerprintreader)
a high-end Audio/Video-project by SmartCasa Home Automation (a partner of iRidiumMobile.nl).
A lottery will be held in the booth. All visitors can put their business cards in a special box, and 1 winner card will be selected from this box each day.

For more information visit the website of the expo: www.domoticabeurs.nl.

iRidium mobile