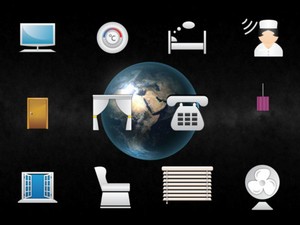 Re-Control
– iRidium-based app to control environment systems in hospitals.
IDEA: To let physically challenged patients control audio/video devices, lights, doors, intercom, etc. with just a single button.
REALISATION:
One Button Control – all systems are controlled without touching iPhone/ iPad.

EQUIPMENT: KNX
Re-Control allows bed-bound patients to control their entire environment. They look on the radial menu on iPad/iPhone and push a button, when an active element is on the required icon. And they get into another radial menu for controlling light, temperature or any other equipment. Thus, bed-bound patients feel full-fledged members of society. Stand out with your unique iRidium-based solution in a number of similar offers to the market.